Why Isn't Anyone Coming To My Website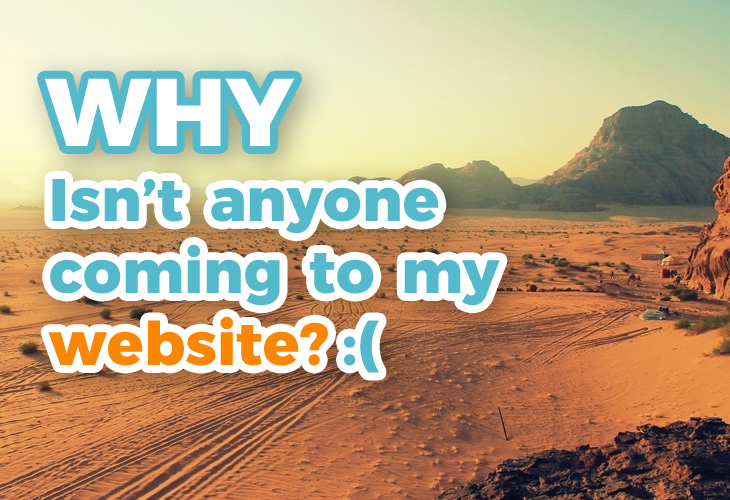 So you've had a new website built, or maybe it's been up a while but still isn't getting many hits… in this blog we'll take a look at some of the reasons that might cause users to miss your website.
1. You're not listed on Google yet
When a website is first built, Google won't know it exists yet. Until it crawls the website there's no way for it to index the site yet. Check to see if your website is listed by searching your URL on Google. If your not indexed yet, it's probably why you aren't getting many hits. Make sure to share your website on Social Media and get links back to it to help Google find it – or use Fetch as Google in Webmaster Tools.
2. You're blocking search engines
WordPress and other content management systems will automatically block search engines when you install them – they assume you'll want to work on the website before putting it live. Once you put it live make sure to unblock search engines so your website can be indexed.
3. Your website isn't engaging
What is there on your website to get people to visit? Have interesting content, not just a list of your services.
Research indicates that users stay on any given homepage for less than a minute (at most!). Make sure there's something there that might entice users to look around your website a little more. Check out our blog about making your website more interesting.
4. You aren't blogging
And if you are, you probably aren't doing it enough. Companies that blog just 4 times a month can receive 800 more monthly site visits than companies that blog just 2 times per month. Blog posts are an easy way to increase the number of indexed pages on your site, with the ability to appear for more search terms across the web. Frequent blogging will encourage Google to index your website more regularly.
5. You have no presence
No time for social media? Don't know what a tweet is? That's fine, but you need to do something, especially if your target audience is your local community. Interacting with other local people and businesses means they're more likely to read your blog and return to your website. Be active online and keep your website up to date, this will help boost your search engine ranking.
You want people to know you still exist and are still trading. Don't have your last tweet, Facebook update or blog post be from 2012.
6. Your nephew built your website
There's lots of cheap ways to get yourself online, but a good website doesn't come cheap. Make sure your website is clean, to the point and easy to navigate. People are quick to judge and it's the same for a website, if you're a business, make sure your website is up-to-date and looking its best.
Final Words
Don't build your website and just leave it, because it won't attact visitors on its own. It needs to be a part of a bigger marketing campaign. Continue to produce new content and you'll website will attract new visitors.