5 reasons visitors are leaving your website
You might have a successful business, but how many of your customers are coming from your website? There's a number of reasons that your website might not be working for you, and it's not your brand that's the issue, and it's probably not the information you have on your website either. Your design might need a makeover.
Visitors make judgements within the first seconds they land on your website. Your website will give a glance into your business and if that first impression isn't good, that's how these visitors will remember you. And keep in mind, not all visitors will land on your home page first – it might be your contact page, about page or directly into your blog through social media.
Find out about making your website responsive.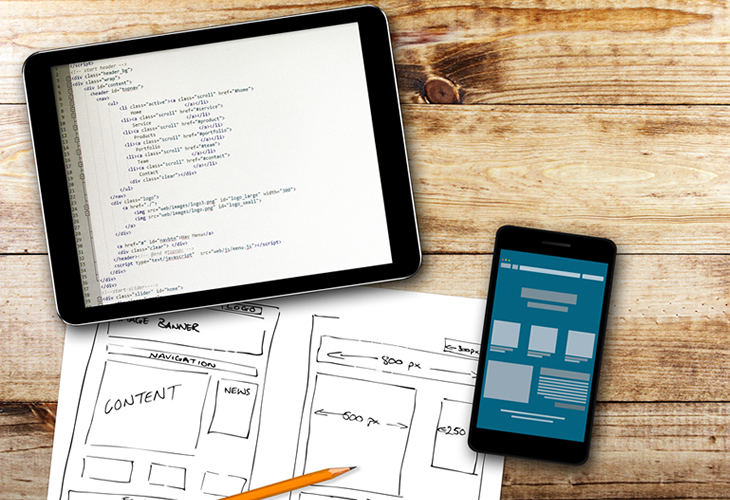 Take another look at your website now, check if it's victim to these 5 elements that might be making visitors click off – and bare in mind that the majority of visitors to your website never return.
1. Cluttered Homepage
The homepage is the most important page on your website, and you only have limited space to make that first impression. A big issue we've found at Indever is businesses wanting to say everything straightaway. A cluttered page will confuse audiences and potentially drive them away. A website should be organised with a clear flow and focal point that allows the user to feel comfortable to click around all of your content. The navigation bar should be easy to use and find.
Load time matters too – make sure your website doesn't have large images on it that slow the load time. A fast, responsive website that adjusts to the user's device will help not only the homepage but the entire website.
Worst Offenders:
Website sliders that rotate too quickly, not giving enough time to see/read them.
Too much text.
2. Confusing Navigation
The website navigation bar should be placed either at the top of the page or just below the header and always contain a link back to the homepage, the logo should also be clickable.
The navigation links shouldn't be confusing, they should be generic and obvious so the user doesn't have to think. "About Us" is perfectly acceptable!
Worst Offenders:
Broken links.
Hard to find contact page.
3. Elusive Social Media Icons
If a visitor is only going to visit your website once, the only chance you may have to ever turn them into a conversion is to get them on your social network page. It is essential to get them to hit LIKE on your Facebook page! Do not hide these in your footer, make sure they are visible in the header and make a point of them. Include the text "Connect With Us", for example.
Worst Offenders:
Social icons hidden in the footer or contact page, or nowhere at all!
Broken links.
4. No Call To Actions
Visitors need to be guided through your website, don't let any page be a dead-end. Make sure every page has links to other pages to keep visitors click around and reading your content. Make sure you have plenty of "Contact Us" buttons throughout the content. A "Request a Callback" form is useful, and make sure to have a Subscribe to Newsletter box. This can be as simple as having a "click here for more" button.
Worst Offenders: 
Linking to other websites without having them open in another tab.
Pages with no direction as to what a visitor should do next.
5. Stock Photos
At Indever, we specialise in photography for websites, because we know how essential it is. Stock photos are boring and everyone recognises them a mile away. Get some original photos to show off your products and services, your staff and your location. It will really make a difference to whether a visitor stays on your website or not. If you are aiming at attracting local business, make sure visitors can see something familiar.
Avoid having poor quality images that have been taken on a phone or cheap digital camera. Where possible, hire a professional!
Worst Offenders: 
Stock handshake pictures.
Stock photos on your homepage slider.
Generic person on phone representing support.
Poor quality photos taken on a phone.
If you can see these issues on your website, it's time to resolve them as you might be driving potential customers away! Once you have, consider these 8 ways to make your website a success.
Remember, a high bounce rate will affect your Google position.